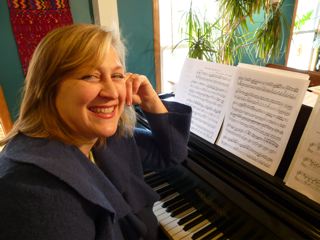 Lily has been teaching piano, flute and saxophone for over twenty years. From after-school programs to private lessons in her home studio, her students receive individualized attention. Lily provides musicians with a balance of ear-training and reading, technique and improvisation. Bi-yearly recitals encourage the importance of poise and practice playing in front of an audience. Interested students should
e-mail or call: (917) 587-9083

Lily White was born and raised in Aurora, Illinois, and studied piano since she was 5 years old. At age eleven she added saxophone to her list of instruments and played in the jazz band. She won the Best Soloist Award at the Oak Park Jazz Festival at the age of twelve. Eventually she added flute to her roster of instruments.
At Oberlin College and studied piano at the conservatory from 1980-83 with Miles Mauney and Julian Martin. Troubled by the lack of a saxophone teacher at the school, she and professor of African American Music, Wendell Logan, petitioned the conservatory to hire a full-time professor. Nathan Davis became her teacher during her Senior year.
After moving to New York, Lily has played saxophone with a number of jazz groups, recording 4 CDs of her own on The Knitting Factory, and Jazz Focus Records. All during that time, she has continued to play and teach piano to students of all ages.
"Piano is the perfect starting point for any instrument," she maintains. "I use it to compose music, learn difficult tunes, and simply to relax."